It's truly amazing how bad most shyness advice is.
It mindlessly repeats the same 5 tips over and over. It is completely out of touch with how REAL shy people think. And it truly believes the world needs yet another dumb motivational saying like "fake it 'til you make it."
Even the name "shyness advice" makes me want to burn all the self help books in the library.
I've spent the last few months creating the 2nd version of The Shyness and Social Anxiety System.
I wanted to update the system to make it even better. So it was with great reluctance that I began studying books and courses about how to overcome shyness again.
I have an extraordinarily careful process for studying advice: I buy every course, product, and book. I study them intensely, keeping notes and comparing them. I build techniques, models and frameworks, endlessly test them, and in some cases rip them up and start again.
By the time you ever see a course from me, it has been quietly inspected and tested by dozens of people.
And after all this research, what I found was seriously discouraging.
I found advice written by people who have never had shyness. (In fact, most self help writers or psychologists write books for the money and recognition, not because they actually know how to help people.) 

If they have never personally felt what it's like

to be nervous, shy or anxious in social situations, then how would THEY know which advice actually works?
I found advice that tried to be "motivational" — by using tired old phrases like "Just think about what's the worst that can happen!" or telling you to "Imagine yourself being confident."
I found university studies about shyness that were almost unreadable. They used long important-sounding words to explain simple and obvious ideas. I found myself wondering: Are professors really this dumb? The answer is no. But they don't have a clue when it comes to shyness.
So here are 5 of the worst pieces of advice — THIS IS REAL SHYNESS ADVICE — that I found. Seriously, these are actual things that people wrote and were paid for.
I pulled these 5 pieces of hilariously bad shyness advice from my internal research vault.
Let's start with…
1. Focusing On Other People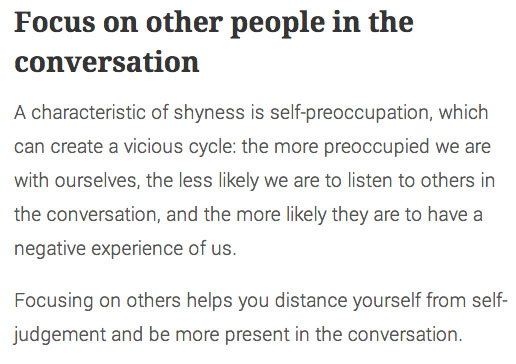 You'll find almost every shyness article online endlessly repeating and echoing this tip.
It's a piece of advice that sounds great on the surface … to people who have never had shyness. This is a great example of an article writer oversimplifying an issue because they don't really understand it. They don't understand how to cure shyness, so they just decided to summarize the tips they read in other articles.
Rehash. Repeat. Republish. Profit.
If overcoming shyness was as simple as telling someone to "focus more on other people," then nobody would be shy. The advice is simply not SPECIFIC enough to be helpful to the average shy person. You're basically left wondering HOW you're supposed to actually do this.
The next tip you'll find is…
2. Rehearse What To Say

If you want to sound like a robot, then this would be great advice.
But for everyone else out there, rehearsing what to say is a terrible thing to do because it completely ruins your ability to talk to people naturally and spontaneously.
Preparing what to say for a job interview or a speech is normal. Rehearsing daily conversations or phone calls because you are shy is ridiculous. It turns your life into a performance, and is that really how anyone should live?
Do normal people have to rehearse their daily conversations like an actor? No, they simply talk to people. And the reason why they can talk to people easily is because their inner psychology is free of anxiety, insecurity and inhibitions, not because they have memorized the perfect "lines."
So you need to focus on getting your inner psychology right instead of rehearsing what to say. Of course, the person who wrote this article is probably now writing one called "12 Ways To Tie Your Shoes Quicker" and didn't have time to figure this out.
The next tip is…
3. Ask More, Talk Less

Back when I had really bad shyness, I would barely speak up and people would always call me quiet. If someone had told me back then that I should "talk less," then I'd probably think they were crazy.
Here's the truth: Shy people need tips for how to talk MORE, not less.
So where does this bad advice come from?
About 50 years ago, there was an explosion in popularity of books that taught "people skills." The advice in these books is mostly common sense: Be a good listener, don't criticize people, remember their name, smile more often, and so on.
And although this advice might be useful to some people, it was never meant to help shy people! This type of advice should be given to the rude loudmouth everyone finds annoying. Or maybe to the greasy salesperson who wants to make more money by pretending to be polite.
Shy people don't need these tips because they already speak up too little and care too much about whether somebody else likes them. You need advice that will make you speak up more around people. You need to learn how to be less nervous and awkward around people. You need to learn how to build confidence and courage to get that social life, girlfriend or boyfriend you want.
What you DON'T NEED is "people skills advice" meant for people who don't have shyness.
Now here's another one…
4. Affirmations

This is advice straight from self-help hell.
I don't know who invented affirmations, but I think some dude just woke up one day and thought it "sounded like a good idea."
In case you don't know, affirmations are basically positive statements that you repeat to yourself like "I am confident and happy." Literally hundreds of self help books have repeatedly recommended using this technique for overcoming shyness or low self esteem… without any scientific proof that it actually works!
In fact, every scientific study recently done on affirmations has consistently shown that they don't work, and can even make you feel worse!
Here's a quote from one of these studies. (Pay special attention to the parts I've bolded.)
Canadian researcher, Dr. Joanne Wood at the University of Waterloo and her colleagues at the University of New Brunswick who have recently published their research in the Journal of Psychological Science, concluded "repeating positive self-statements may benefit certain people, such as individuals with high self-esteem, but backfire for the very people who need them the most."

The researchers asked people with low self-esteem to say "I am a lovable person." They then measured the participants' moods and their feelings about themselves. The low-esteem group felt worse afterwards compared with others who did not. However, people with high self-esteem felt better after repeating the positive affirmation–but only slightly.
5. Just Do It!

The author of this article talks about introducing yourself to random strangers as if it was the easiest thing in the world.
Imagine if I told you "Go buy some groceries, wash your car, and — oh, by the way — just walk up to someone randomly and have a conversation with them."
I can just imagine your reaction.
"Wait … you want me to do WHAT!?!!"
And while all the shy people reading that article were still shaking their heads in disbelief, the author smugly adds "And you may never see them again, so who cares what they think of you?"
Just like other shyness advice that sounds logical but doesn't work, asking yourself questions like "Who cares what they think?" or "What's the worst that can happen?" does NOTHING for making you feel less shy, nervous or anxious in social situations.
Why Is This Shyness Advice So Bad?
That seriously passes for shyness advice — in SOME OF THE LARGEST WEBSITES IN THE WORLD.
Are you kidding me?
Is anyone else outraged?
I'll tell you why I'm mad.
I'm mad because this terrible advice is written

NOT to help people, but to drive pageviews

on their websites. If these writers helps literally zero people, it doesn't matter — they still get paid.
I'm mad because the shyness advice we get is

unspecific at best

, and blatantly wrong at worst.
I'm mad because I realized 90%+ of the books and articles I read had never

tested their theories

with real people.
So what happens?
Most of us simply accept our position in life and stop trying to achieve the friends, confidence or romance that would truly make us happy. We don't realize that what we really need is science-based advice for overcoming shyness that was tested to make sure it works IN REAL LIFE.
I'm focused on results. Like how one of my students got a girlfriend within weeks of starting my Shyness and Social Anxiety System 2 … even before he finished listening to the whole program.
So, ignore the terrible advice out there written by random article writers. There is hope. There is a SYSTEMATIC way of overcoming your shyness, clear steps to follow for having interesting conversations, and a method for staying confident even around people you find intimidating or attractive. I've done it, I've helped MANY people do it, and I want to show you how.
TO DO TODAY
Leave a comment with the following:
What is the most ridiculous piece of shyness advice you've ever heard? Be specific please.
How has bad shyness advice kept you from achieving your goals? A SPECIFIC EXAMPLE PLEASE.