Earn 75%

Recurring

Commission As An Affiliate of The Shyness and Social Anxiety System
Dear affiliate marketer or online business owner,
I'll get right to the point. On my ebook and membership website you make a whopping 75%  recurring commission.
This means you make just over $20 for the initial sale, and just under $20 for every month they stay a member.
On a low-end offer that only costs $29.95/month, these commissions add up quick. The lower price means higher conversions, and a higher percentage of members staying on for longer.
Why is recurring commission so great?
It builds onto itself. Once you make a sale, that buyer has the potential to keep making you money for months in the future. Many people will remain subscribed forever.
Here's a graph of what this compounding effect really looks like over 12 months: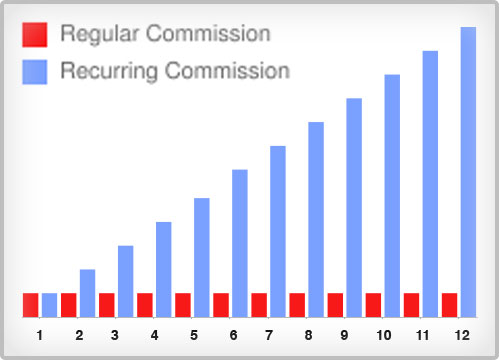 A quick example to illustrate the power of recurring commissions:
Regular commission: First imagine you are making 2 sales per day of a product that pays you $20 commission.
This means that the first month you make $600, the second month you make $600, the third month you make $600, and so on. Each month you have to start making new sales and recruiting new prospects from scratch.
Recurring Commission: Now imagine you are making 2 sales per day of a product that pays $20 recurring commission.
The first month you'll make $600. The second month you'll make another $600 new sales + your old sales will be re-billed, so you make $1200 in total. The third month you'll make $1800. The fourth month you'll make $2400. The fifth month you'll make $3000. And so on…
Do you now see the power of recurring commission?
What about members that cancel?
Granted, there will be some people who decide to cancel their membership, but this will be the minority. (I've heard the average figure is 20% per month, but that was for $47/month membership sites. A lower monthly charge like $29.95 should keep members on longer.)
Beyond that, remember that there are plenty of people who will NEVER cancel. They'll stay on indefinitely.
What is your conversion rate?
I don't have enough statistics to give one overall conversion rate. It really depends on your traffic source, how ready the prospect is to buy, etc.
That being said, I was selling a similar ebook on shyness a few months ago through adwords, and it had a 2.5% conversion rate. The sales letter for it was nearly identical to the one I have up now, and the offer then was weaker.
Why offer such high commission?
In case you are wondering if there's a "catch," here's my reasons for doing this:
I want to get this material out to as many people as possible. I truly believe it can make a difference in people's lives more than anything else out there.
I don't see a high affiliate commission as me "losing" anything. Even if I only get to keep 25%, that's still 25% I wouldn't have otherwise. I see this as win-win.
I'd like to build up a list of buyers because I think there is the potential for future backend products.
Affiliate Tools
Here's you'll find some tools you can immediately start using to promote The Shyness and Social Anxiety System.
Create Your Affiliate Link
Click here to instantly create your own affiliate link for "The Shyness and "Social Anxiety System."
Or simply link to http://username.darekw.hop.clickbank.net
where "username" is your Clickbank username. (If you don't have a Clickbank account, you'll have to sign up for one here first.)
Articles
Feel free to republish any article from my EzineArticles account to your website or blog, and switch out the links with your clickbank link.
http://ezinearticles.com/?expert=Sean_W_Cooper
Email Promos
Feel free to use or adapt any of my blog posts for your email list or follow-up sequence. Most of them give away tons of valuable information and close with a short pitch to buy the ebook. This is very effective at preselling the customer to make them want to buy.
But please DO NOT republish any of the blog posts on your own website or blog. This will cause duplicate content issues and headaches for both of us.
Banners
Click here to view our current banners.
Rebrandable PDF Reports
To come…
Product Images
Simply right-click and choose "Save Image As."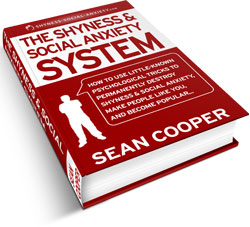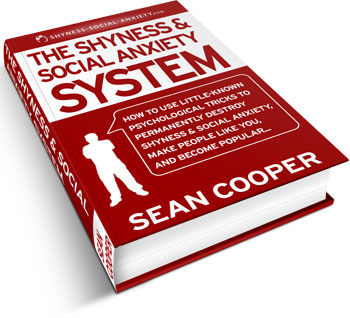 Best of luck in your affiliate endeavours!
– Sean Cooper, founder of The Shyness and Social Anxiety System