It's the moment of truth. You know you have to finally face your fears and go into a scary social situation. The question is: how can you cope with your social anxiety so it doesn't overwhelm you?
I remember when I had social anxiety. I would avoid most social situations whenever possible. When I HAD to do something for sure, like making a presentation in front of the class, I would dread it for weeks beforehand.
When the day came, I would start to get physical symptoms: Sweating for no reason, shuddering breaths, shaking in fear. Some people who have social anxiety disorder may even get headaches, stomachaches, or vomiting because of their anxiety.
What a nightmare!
The good news is, in my quest to overcome social anxiety, I found some sure-fire techniques for coping with social anxiety as it comes up. Some of these you may have hear of before, others may be completely new to you. For the ones you have heard of before, read them again and pay careful attention to how I used them, it may turn out to be different from what you're used to.
For all of these techniques, make sure you don't just read them and then forget about them. These can all make a measurable, significant decrease in your anxiety whenever you need them. And I've also found most people don't use them properly right away. It takes some practice to get the feel for when and how to use them.
Right when you are feeling most anxious you probably won't be in the best state of mind to try out a new technique. You'll need to use it several times before it begins to work instantly for you. Also, keep in mind that these are not a cure for social anxiety. They are only meant to help you cope with social anxiety in the short term.
1. Be Very, Very, Very Relaxed
One of the most basic concepts in psychology is that the mind and the body are interconnected. When you feel anxiety and find yourself starting to sweat, shake or blush, your mind is affecting your body.
What most people don't realize is that the opposite is also true. The state your body is in also affects the state your mind is in. If your body is totally relaxed, then your mind will start to follow along. (In psychology, this effect is called psychosomatic.)
If you change your behaviour, your emotions will follow.
So how should you change your behaviour to decrease your anxiety? Focus on becoming very, very relaxed. Be as relaxed as you can possibly manage.
Go through your muscle groups in your head and release a little tension in each one. Start with your face: unclench your jaw, relax your cheeks, rest your eyebrows. Then move on down to your shoulders, stop tensing them up so high, drop them a little bit by relaxing those muscles. Keep going down until you have relaxed each muscle group a little more. If you want, you can do this again and again and become more and more relaxed each time.
How relaxed should you be? Completely and TOTALLY relaxed. You almost have to make your body go limp — that's how relaxed you should be. In my mind, there is no such thing as "too relaxed" for someone feeling anxiety. Maybe if you start slurring your words you should stop, but I don't think there's a big chance of that happening.
Try this out for yourself. Next time you're feeling anxious in a social situation, make yourself relaxed to the point of feeling lazy and limp. You'll still feel some anxiety, but much less than you did before. As you do this over days and weeks, it'll become much easier to be deeply relaxed in social situations. If you keep it up, you may even become as relaxed around people as you are when you're by yourself just by using this one technique.
Don't take this technique lightly. It is one of the golden keys to overcoming social anxiety disorder and one of the biggest tools I used for overcoming my own anxiety.
2. Breathe Deeply Through Your Belly
The second technique is about making a simple adjustment to the way you breathe to decrease your anxiety on the spot.
What you're probably thinking right now is: "Why do I need to change the way I breathe? And what good will this do?"
People with social anxiety breathe badly because their mind has taken over their body. Someone who is under a lot of anxiety is probably experiencing a "fight or flight" reaction in their body which makes them breathe in a way that only makes their anxiety worse!
When you feel anxiety, your body actually thinks you are in immediate danger, so it sets up an emergency system that will allow you to either fight the danger or run away fast.
One part of this "emergency system" is to change your breathing patterns. Most people who are experiencing anxiety are breathing in a very bad way. They are breathing shallowly, taking very fast breaths, and using their upper chest to breathe as opposed to their stomach.
This type of breathing would be great if you needed to run away from danger RIGHT NOW! … but it's extremely counterproductive if you are trying to make yourself feel calm and relaxed to lower your anxiety.
So how do you change your breathing to make it "normal?"
The first step is to breathe through your belly, not your chest. Most people with social anxiety spend their whole lives breathing through their chest. This is not good if you want to relax your body and mind and feel less anxiety and nervousness in social situations.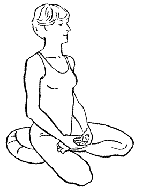 Also, breathing through your chest gives you less oxygen, so you may end up with cold, clammy hands all the time — even in summer!
Here's how you breathe through your belly. Look at the animation to the left. When you breathe in, your stomach should expand. When you breathe out, your stomach should contract. Your chest and shoulders shouldn't move at all. This type of breathing is also called diaphragmatic breathing.
If you've been using your chest to breathe all your life, it may take some time to get used to belly breathing. You can practice by laying down on your back and putting one hand on your belly and one hand on your chest. Then you breathe, trying to only move the hand on your belly and keeping the hand on your chest as still as possible.
Take slow, steady breaths in and out. Practice making them longer and longer. Also, try to breathe in through your nose and out through your mouth. When you get the hang of belly breathing, you should try to do it all the time. Right before you go to sleep or right after you wake up, take 10-15 minutes to just lay in bed and practice belly breathing.
When you feel anxious, your body will want to go back to chest breathing. This is the time to take control and consciously make yourself breathe through your belly. If you keep doing this, you'll find that it's a very reliable method of coping with social anxiety.
Practice To Improve
Remember that for both techniques I showed you, it's not enough to read about them. You have to PUT THEM INTO PRACTICE if you want them to have an impact on your life. And you'll be most successful if you practice consistently.
Once I put these techniques into practice for myself, I found that my physical symptoms became much better. I stopped breaking out into a nervous sweat as much, and my hands stopped being cold all the time. My voice also sounded much less weird and awkward, even when I felt anxious on the inside.
The catch is, these techniques are for COPING with social anxiety, they will not get rid of it. In order to cure your social anxiety, you must attack the root of it, not just them symptoms.
If you want to learn more about how to get rid of social anxiety permanently, then check out my eBook called "The Shyness and Social Anxiety System." I overcame my own social anxiety and now I teach people all around the world how they can do the same.
It's much easier to get rid of your social anxiety when you know the exact steps you need to take. Most of the books and audio programs on overcoming social anxiety out there were made by people who learned about social anxiety from a psychology textbook and now they want to pay off their degree.
By learning from someone who has done it himself, you'll be able to progress faster than you ever thought possible because you'll learn all of the "insider secrets" to overcoming social anxiety that I figured out along my own journey. Click here to find out more.